Like every year, Muslims around the world will be celebrating Eid al-Fitr Festival 2018. It is expected to come this year by the mid of June. Muslims all over the world will be celebrating Eid al-Fitr 2018 with a difference of a day or two, depending on the time zone that they are in. It also depends on the sighting of the moon of Shawal. Eid al-Fitr will be celebrated by Muslims after they complete their fasting for the month of Ramadan. Ramadan 2018 came in May, which was comparatively a hotter Ramadan for Muslims in most of the countries. Eid al-Fitr 2018 will be a three-day holiday in most of the countries, but most of the non-Muslim countries do not have a day off on Eid. Let's talk about few obligations that the Muslims have to follow when it comes to Eid al-Fitr 2018: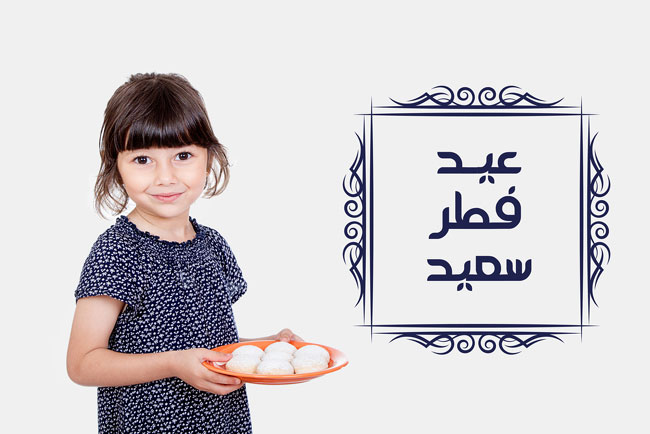 Muslims are required to pray the special Eid prayer in congregation. Usually, it is performed by Muslims in a certain are together. It gives Muslims a lesson that no matter what, all Muslims are equal in the eyes of Allah. It also reminds Muslims about brotherhood with other fellow human beings.
Muslims are encouraged to stay clean and wear clean, preferably new clothes on the occasion of Eid to live in the spirit of celebration.
Muslims are also required to share their festivities with the underprivileged, especially when it comes to food cooked on Eid.
When we talk about some of the traditions that will be followed on Eid al-Fitr Festival 2018, to name a few:
Muslims are encouraged to begin their day by eating a date before leaving for Eid prayer, this is considered a Sunnah, and hence it is followed by a lot of Muslims.
Muslims are also encouraged to listen to the Eid Sermon after the Eid prayer, as it is also considered one of the essential parts of Eid prayer.
Muslims greet one another 'Eid Mubarak' when they return from the mosque after their Eid prayer. They hug each other and receive Eid greetings.
Most of the Muslims around the world eat sweets for breakfast to celebrate Eid festivities. These sweets vary in different countries, for instance in Pakistan people usually prefer eating s sweet dish called vermicelli.
Muslims gather together to meet their families and have meals together to revive the spirit of love and togetherness.
Follow Prayer Times NYC for Eid prayer timing.
The traditions vary in different countries depending upon their cultures; however, the spirit of peace, love, and togetherness remains constant throughout the world.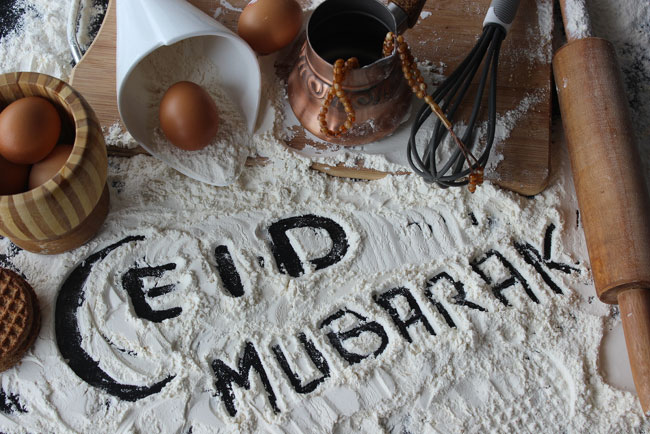 Eid al-Fitr Festival 2018 Expected Dates:
Eid al-Fitr is celebrated each year on a different day, following the Islamic calendar and on first Shawal. This marks the end of the holy month of Ramadan. This year, it is expected to fall in the mid of June. For countries who began their Ramadan earlier, Eid al-Fitr 2018 will fall on June 14th, Tuesday. While for others it will be celebrated a day later on June 15th, Wednesday. These dates, however, are not certain as they can change depending on the sighting of the Moon.
Eid Mubarak Greetings Messages
May Allah's blessings be showered on you on this Eid al-Fitr!
Happy Eid Mubarak!!!
On Eid ul-Fitr, wish that Allah's blessings light up the path and lead to happiness, peace and success.
Happy Eid Mubarak!
Happy EID-Mubarak to all of you
A Wonderful One..!!
To Help Make Your Eid
Friendship And Fun
Light Hearted Moments Of
Bright, Happy Things
Warm,Happy Hours And
That This Eid Day Brings
May Eid bring you peace,
love,
warmth and happiness all your way.
Happy Eid-ul-Fitr
"Don't open it for atleast 5 more day,
.
.
.
.
.
Mujhey pata tha aap say sabar kahan ho ga,
Happy EID Mubarak.
Yaad rakhna I'm the first 2 say u eid Mubarak !"
Sending you warm wishes on ""EID-UL-Fitr""
And wishing that, it brings your way ever joys and happiness.
Remember me in your prayers.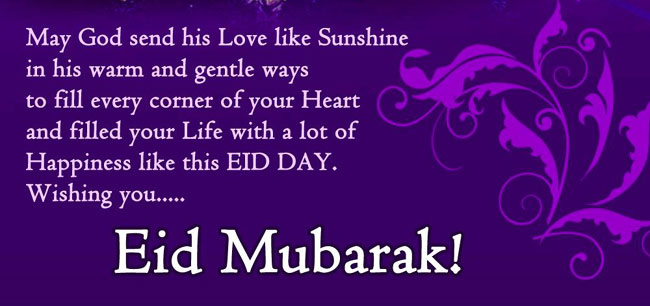 On the Canvas of life we often go off colour,
But as long as people like u are there to add the right shades,
Life goes on to be rainbow!
Eid Mubarak.
Eid Is Dedication
Eid Is Love….
Eid Is Beauty..
Eid Is Dedication..
Eid Is Happiness…
My Advance Wishes To U & Ur Family.
"EID MUBARAK"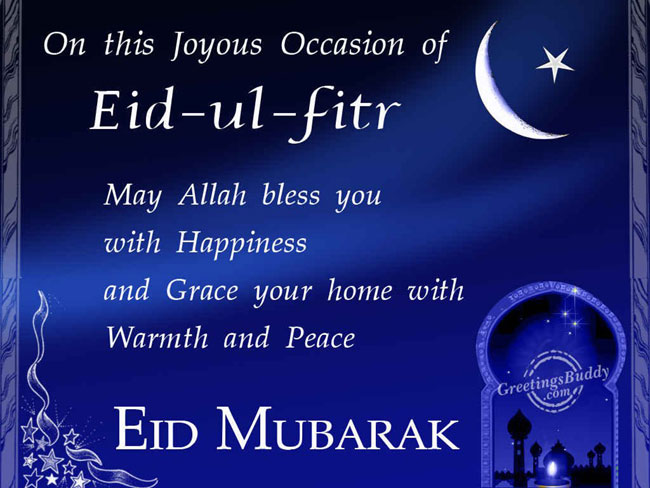 Eid is a celebration for muslims to celebrate
Eid is time to say Eid morak and pray
Some muslims give money to their children and say Eid mobarak.
Some muslims go to their friend and neigbours.
Some people give money to other children,
they don't just give money to their own children,
they give money to their friend's children or to their neigbours children.
They can also give money to adults.
Eid mubarak, Eid mobarak to you all my bothers and sisters.
On Eid-ul-Fitr wishing that your sacrifices are appreciated and your prayers are answered by the almighty.
Have a blessed Eid
"My Blessing, Congratulations and Good wishes.
I wish you the best of everything
for not only in EID-UL-Fitr but also
all the years ahead.*EID MUBARAK*"